The Stable channel has been updated to Google Chrome 30.0.1599.69 for Windows, Mac and Chrome Frame. This update fixes the top two user issues with the latest stable build.
Google Chrome 30 fixes the following security issues:
Tabs freeze up (Issue: 303293)
Lag in some games/GPU issues with certain monitors (Issue: 262437)
Issue 303293 related to tab freezing occurs in Google Chrome 30.0.1599.66. The issue occurs when switching tabs. The first tab freezes up, even after pressing the reload button.
Issue 262437 is related to lag in some flash games like Candy Crush in Google Chrome version 30 (specially in Windows 8).
You can read in details about all the fixes, known issues and security fixes at the official Chrome Releases blog.
How To Update Google Chrome To The Latest Version?
If you're already a Chrome user, most likely, your browser is silently updated to the latest version. You can confirm if you're already updated or not by opening

> About Chrome. If you want to download and install Chrome, you can do so by clicking on the relevant download links below.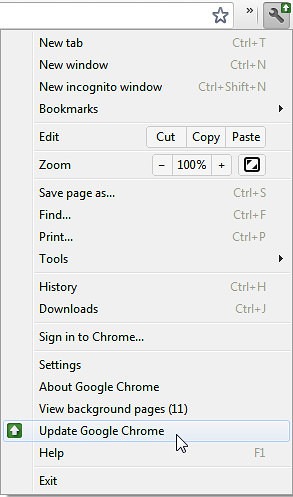 Google Chrome Update: Download Links For All Platforms
You can also download Google Chrome 20 using the following links:
Download Google Chrome Update (Web installer)
Download Google Chrome Update for All Users (Enterprise Edition)
Download Google Chrome Special Edition (Comes with 17 games pre-installed)
If you want to download the Google Chrome offline installer instead of the web installer, you can get it using following link:
Download Google Chrome Offline Standalone Installer
If you are looking for the portable version of Google Chrome, please use the download link below.
Download Google Chrome Portable
Do check out the Google Chrome category to see everything about the web browser.
If you are adventurous and want to test out the Beta, Dev or Canary build, click on the download links below!
Google Chrome Download (Beta Channel)
Google Chrome Download (Dev Channel)
Download Google Chrome Canary Build
Google Chrome For Android and iOS Platforms
Download Google Chrome for Android