Google Docs now lets you upload any kind of files, though not many of them can be previewed in Google Docs. You can open Microsoft Office, StarOffice, OpenOffice documents, spreadsheets and presentations, PDF files and some images, Windows Metafile (.wmf) and, upload, share and play videos.
After uploading a video to Google Docs, you'll have to wait until it's processed. Then just click on the processed video file present in your Documents List, and the video opens in a new page that includes a video player (YouTube video player). You will need to have Flash installed for the video player to work. On the page that opens, you can also find more information about the video file, including the owner, whether the file is shared or not, and when the file was uploaded. It also lets you view the version history of the file. You can also download earlier versions of the video file.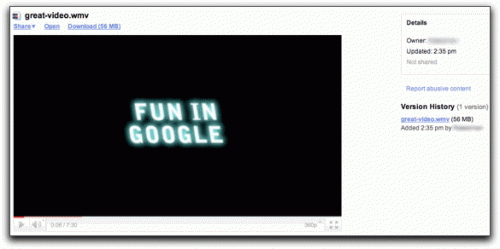 Uploaded video files can be up to 1 GB. These are the most common video formats that you can upload and play:

WebM files (Vp8 video codec and Vorbis Audio codec)
.MPEG4, 3GPP and MOV files – (h264 and mpeg4 video codecs and AAC audio codec)
.AVI (many cameras use this format – typically the video codec is MJPEG and audio is PCM)
.MPEGPS (MPEG2 video codec and MP2 audio)
.WMV
.FLV (Adobe – FLV1 video codec, MP3 audio)
How to Share Private Videos Using Google Docs?
Simply follow the steps below to share private videos using Google Docs:
Login to Google Docs using your Google Account.
Click on the "Upload" button to upload the video file.
You will see two types of upload options: Drag and Drop and Select files to upload.
Note: If you want to batch upload multiple files, Simply select the multiple files in Explorer and drop them into "Drag and drop" area.
You can change the Share settings before uploading or you can change the settings later on too. Click on the "Start Upload" button to transfer the selected videos to Google Docs.
Now, visit https://docs.google.com/#videos to find all your uploaded videos. You can now click on the uploaded video from the Documents List in Google Docs to configure the sharing.
A new tab will open that will show the uploaded video. Click on the "Share" link at the top left corner and select "Sharing settings" from the menu.
You can share the uploaded video with your friends by specifying their email address or selecting them from the contacts. You can also set the visibility option of the video file to Public on the web, thus anyone (no Google Account sign-in required) with the link to the uploaded video can watch it or set it to Private (only people with explicitly granted permission can view the video). You can also sent an email notification to tell your friends about the newly shared items through Google Docs. The invited friends can then playback the shared video from Google Docs.
Enjoy sharing videos with only your friends and family privately. Now, I am waiting for Google to add more free storage to Google Docs so that I can share more of my stuffs privately.