Microsoft has released Office 2010. It is available in three different retail editions:
Office Home and Business 2010
Office Home and Student 2010
Office Professional 2010
Office Home and Student 2010 is the basic edition that is retailing for $149.99 and includes the core Office modules including Word, Excel, PowerPoint and OneNote. Office Home and Business 2010 which retails for $279.95 and includes Microsoft Outlook on top of what is offered in the basic edition. Office 2010 Professional which retails for $499.95 and is the only edition that includes Access 2010 and Publisher 2010.
Earlier, we've shared how you can get a fully functional 60 day trial version of Microsoft Office Professional Plus 2010 via TechNet center:
Download Microsoft Office 2010 and Evaluate for 60 Days
The Redmond giant now offers a free download of Microsoft Office trial versions, so that customers can test before upgrading their office productivity suite. Trial downloads are available for all the three retail editions of Office 2012.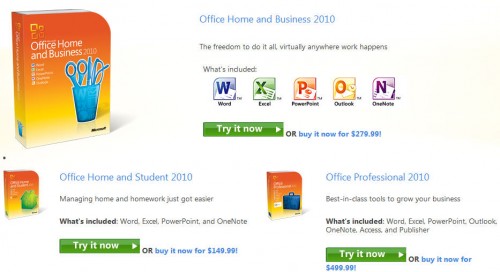 You can download Office 2010 using the direct download links below:
Microsoft Office 2010 Trial Direct Downloads Links
Please note that the links provided are for Office 2010 English versions. You'll need a free trial key to install Office 2010.
Get free Microsoft Office 2010 product key (60-day trial version)
You can ask for your free Office 2010 free trial product key from here.
Update: If you are clicking on the link above to get your free Microsoft Office 2010 product key, Microsoft is redirecting you to Microsoft Office 365 trial page. We want to clarify again that we are not issuing any product keys. If Microsoft is not issuing trial keys, we won't be able to help you. You can though download a fully functional 60 day trial version Microsoft Office Professional Plus 2013.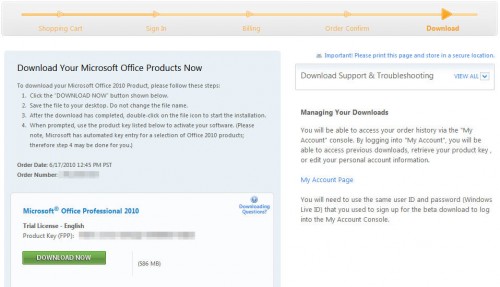 At that website, click on the Try It Now button, it will lead you to Windows Live login form. You may have to fill your first name, last name and country before you receive Microsoft Office trial product key with download link.
A small FAQ about Microsoft Office trial version can be found here. Details about Office 2010 system requirements for all editions can be found here.
If you want to test Office 2010 for more than 60 days, then you should take a look at the Office 2010 rearm instructions:
How To Use Microsoft Office 2010 for 180 days Free without Activating?
Share with us your views and thoughts about the new Office 2010 using the comments below. Also do share with us if you are willing to upgrade to the new Office 2010?