Windows 8 Consumer Preview is now publicly available for everyone interested to test the upcoming operating system. This time Microsoft has made it dead simple for everyone who wants to download the operating system. But, it seems this simplicity has caused some confusion among some users when locating the product key for Windows 8 Consumer Preview.
Looking for Windows 8 Release Preview product key?
Get Windows 8 Release Preview product key here
The earlier version of Windows 8, Windows Developer Preview build allowed installation of the OS without requiring any product key. But, the Redmond giant has changed the installation procedure with the new Consumer Preview. Without putting in a valid product key, the installation process completely halts.
Well, now you don't need to be bothered about this anymore, you will find the Windows 8 Consumer Preview key which is valid for both 32-bit and 64-bit edition by reading past the break.

In our earlier post, we posted the links for downloading Windows 8 Consumer Preview. There are two ways to get the product key.
You can visit Microsoft's official website for Windows 8 Consumer Preview and click on the Get it now button.

Then, on the next page, click the download link to grab the official Windows 8 Consumer Preview Installer. The web installer is merely a 5MB download. Simply run it and follow the instructions. After a few clicks you will receive your own unique product key.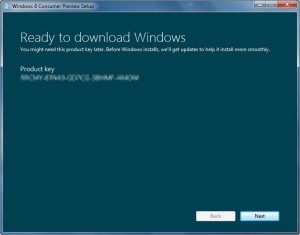 If you proceeded to download the ISO directly. You will find the product key just below the download links. See the screenshot below.

Windows 8 Consumer Preview Product Key
Product Key: DNJXJ-7XBW8-2378T-X22TX-BKG7J
Note: The above Windows 8 Product Key can only be used to activate Windows 8 Consumer Preview.
You can get the release preview product key here and the developer preview product key here.