Windows 8 comes included with Windows Media Player. But do not mix Windows Media Player with Windows Media Center. Since, Windows Media Player in Windows 8 can't play DVD movies anymore, you have to either opt for an alternative player such as VLC Media Player or you will need to buy Windows 8 Media Center Pack key. Yes, you read it correct, with Windows 8 Pro, you have to buy a separate license for Windows Media Center, which used to come bundled with earlier versions of Windows.
If you are an owner of Windows 8 Pro license, here's some good news for you. To promote Windows 8 among its users, Microsoft is giving away free Windows 8 Media Center Pack product keys. You can use this free Windows 8 Media Center Pack key to upgrade Windows 8 Pro to Windows 8 Pro Pack. If you are having Windows 8 license, you will need to first upgrade to Windows 8 Pro, before you can activate Windows 8 Pro Pack using the promo license key. You can get the free license until January 31, 2013.
How to get Windows 8 Media Center Pack license key for free?
To receive the free product key to activate Windows 8 Media Center Pack, you just need to give a valid email address in this page. You don't need to give any other information to receive your free product key. Within 24 hours you should receive the product key through the email address you provided.
How to add Windows 8 Pro Pack or Windows 8 Media Center Pack to Windows 8?
Swipe in from the right edge of the screen, and then tap Search. (If you're using a mouse, point to the upper-right corner of the screen, and then click Search.)
Enter add features in the search box, and then tap or click Settings.
Tap or click Add features to Windows 8 and then tap or click I already have a product key.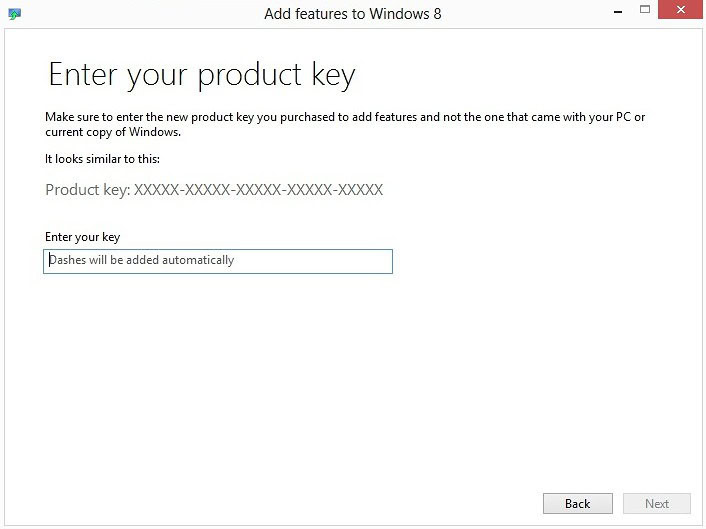 Enter your product key and click Next.
Read the license terms, select the check box to accept the license terms, and then click Add features. Your PC will restart automatically after installation.
Below are some FAQs about the promotion:
The promotional price is limited to one license per PC and a maximum limit of five licenses per customer.
The promotion is supported in all countries that Windows 8 is available in beginning on October 26, 2012, through January 31, 2013.
The update turns Windows 8 Pro into Windows 8 Media Center Pack version.
The product key will be emailed to you within 24 hours. The promotion is limited to one product key per email address.
The promotion is for customers like students, home users, and enthusiasts. Organizations can be eligible subject to this maximum limit per organization.
To qualify for this promotion your PC must be running Windows 8 Pro. Additional hardware may be required to watch and record live TV.
The installation of Windows 8 Media Center Pack includes 90 days of no-charge support from Microsoft. The 90-day period begins after you install and activate Windows 8 Media Center Pack.
Source: Microsoft