How To Apply For Your Free Windows 10 Upgrade
Microsoft's latest version of its flagship Windows operating system, Windows 10 is expected to release in July will release worldwide on July 29. Official release date of Windows 10 is yet to be finally announced by Microsoft. As the days are coming nearer and nearer, details like Windows 10 system requirements are emerging. Now, it seems Microsoft has started a campaign for eligible customers where the customer can register themselves to get free Windows 10 upgrade. If you know you are eligible for the free Windows 10 upgrade, here's how to reserve your free Windows 10 upgrade seat. But before you jump in, here's some FAQ that may clear some of your doubts about Windows 10 free upgrade campaign on Reddit. Take with a pinch of salt as Microsoft is yet to make the official announcements. Here's the official Windows 10 FAQ page.
How to reserve your spot for Free Windows 10 Upgrade?
When Windows 10 is released, Microsoft in addition to other mediums, is set to deliver Windows 10 via Windows Update. But before you can get it delivered via the unusual way through Windows Update, you need to make sure you have installed the recommended KB3035583 update. This update package will make Windows Update ready to download Windows 10 and ask the user if they want to install it on their computer or not. You can check Windows Update history to see if the update package is already installed or not. If it's missing, you can search for updates again in Windows Update and install it. Also make sure you have the April 2014 update roll up for Windows RT 8.1, Windows 8.1, and Windows Server 2012 R2 (KB2919355) installed in Windows 8.1. Or, if you use Windows 7, Windows 7 SP1 is installed.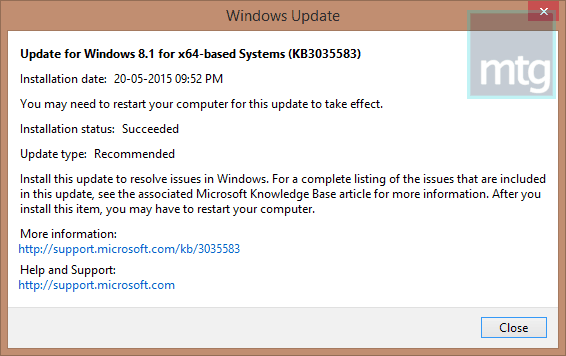 After the update is installed you may see a Windows Start Menu like icon on the taskbar near the clock. Click on it and you will see the Windows 10 free upgrade reserve pop-up.

See the slideshow below for an idea on what to expect.
This slideshow requires JavaScript.
After you have reserved your free Windows 10 Upgrade, you can sit back and relax. As soon as Microsoft releases Windows 10, Windows Update will download Windows 10 and ask you if you want to install it or not.
How to cancel your reservation for Windows 10 upgrade?
Made a mistake? Do you want to cancel your free upgrade reservation? You don't need to worry, you can simply open the reservation window again and cancel it.
How to uninstall KB3035583 from Windows Update?
If you want to uninstall KB3035583, first open Control Panel. Now go to Programs, then click on Programs and Features. On the left pane, click on View installed updates. Use search to search for KB3035583, select KB3035583 update and uninstall it.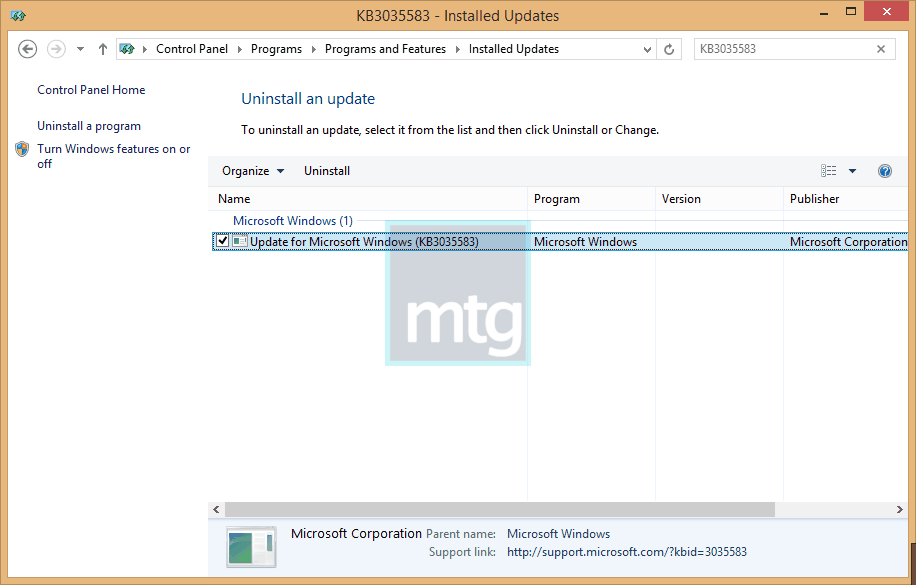 What are your thoughts on the upcoming Windows 10 operating system? Are you ready for Windows 10?