Apple has released iOS 6 update for the iPhone 5, iPhone 4S, iPhone 4, iPhone 3GS, iPad 3, iPad 2, iPod Touch 5th gen and iPod Touch 4th gen. iOS 6 update includes a number of new features and refinements. The new iOS 6 update removes Google Maps and now includes Apple Maps app with 3D maps and turn-by-turn navigation, new Siri capabilities (now supports devices like iPad 3), Facebook integration, Shared Photo Streams, FaceTime improvements and a lot more. You can upgrade your compatible iOS device easily by using either of the three methods described in this article. But first you should back up your iOS device before your install the update. More details after the break.
Before beginning any iOS update, it's a good idea to back up your iOS device first.
How to Backup Your iOS device?
How to Backup Your iPhone or iPad using iCloud?
Note: You'll need iOS 5 or higher and iCloud account, and a Wi-Fi connection. The time to complete the backup partly depends on your internet connection speed.
If you have iCloud set up, you can easily backup your iOS device to iCloud by visiting Settings > iCloud > Storage & Backup > Back Up Now. Your iOS device will display an ETA for the backup with a progress bar.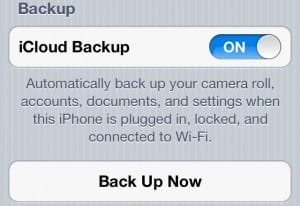 How to Backup Your iPhone, iPad or iPod using iTunes?
Before updating, you should also backup your device using iTunes. After updating your device, you can quickly restore your device directly via iTunes. Restoring this way is always faster than restoring from iCloud which is dependent on your internet connection.
Plug your iOS device into your computer or Mac
Launch iTunes app and select your iPhone, iPad or iPod from the Devices list in the left pane.
Right-Click on your iOS device and select Back Up

Wait for the backup process to complete.
How to Install iOS 6 Update on Your iOS Device?
You can update your iOS device to iOS using any of the three methods described below:
How to Update Your iOS Device Using OTA (Over-the-Air) Software Update to iOS 6?
For most users, Over-the-Air (OTA) update is the best and most preferred method to update to iOS 6. To update your iOS device to iOS 6 use OTA update method, follow the steps below:
Launch Settings and tap on

General

Tap on

Software Update

to see details about iOS 6 update including the download size
Now, tap on

Download and Install



You'll need to agree to the Terms and Conditions before you can go ahead with the update.
Your device proceeds to download the update, then restarts and installs iOS 6 before greeting you with a custom Welcome screen. The setup screen asks you a few questions about Location Services, Siri, and more.
OTA updates are always faster as the device downloads only the "delta" updates, which has only parts of the operating system that are changed between the new version and the one running on your device. Delta update downloads are hence smaller than full update downloads. If you have a decent internet connection that can download around 500 MB in a few minutes, you should go for a OTA update.

Note
: You may receive a pop-up notification suggesting you to connect to a power source, if you are not connected to one. The time to complete the OTA update partly depends on your internet connection speed.
Warning: Keep your iOS device fully charged before starting a OTA update, otherwise the OTA update will fail or the option will be grey-ed out.
How to Update Your iOS Device to iOS 6 through iTunes?
If you the latest version of iTunes (10.7 or later) installed on your computer or Mac, you can connect your iOS device to iTunes and update it to iOS 6 directly. The process is easy and iTunes will guide you through the steps.
How to Update Your iOS Device to iOS 6 through iTunes using IPSW files?
Warning: This method is only for the advanced users who are very comfortable tinkering with their iOS devices, like unlocking the hardware or jailbreak them. When using the IPSW files, you first need to download (use the links below) the correct iOS 6 update firmware file for your iOS device and use them to manually update your device.
Download the right iOS6 firmware file for your iOS device model from the direct download links, hosted by Apple
How to use IPSW files to Update to iOS 6 through iTunes?
As mentioned already, you need to have the latest version of iTunes installed on your Mac or Windows before you can use IPSW files.
Connect your iOS device to your computer and launch iTunes
Select your iOS device in iTunes from the left pane
If you are on a Mac, keeping the 

Option

 key pressed click on Update. If you are using a Windows PC, holding down

Shift

key click on Update.
You will now have the option to select the IPSW file (which you've already downloaded using the links above) and click Choose.
Now, iTunes will update your iOS device using the iOS 6 firmware you provided.
After you have successfully updated your iOS device to the latest iOS 6, share with us which new features you like the most through comments below. Don't forget to share with us your iOS 6 update process. Was it smooth or you faced problems?