Google Drive launched with a very competitively cheap cloud storage price and 5GB free storage space is set to change the game.
Until the launch of Google Drive, Dropbox was considered (is still considered a strong competitor and I am going to stick with them) by many as the hands down winner in the cloud storage service provider. With some of its unique features which were not provided by the competition than, Dropbox was adopted by the masses soon. After the launch of Dropbox, some services did came up that offered quite similar feature sets, like SugarSync, but for some reason, they were not that much popular.
Earlier, I have covered five free cloud storage services, that are worthy to keep your files safely on the cloud. But with the advent of Google Drive, by one of the largest organization on the Internet, who are having tons of resources in their hands, it becomes very important to analyze the scenario again. It's now time that I do a comparison between all the popular cloud storage services to see who offers what.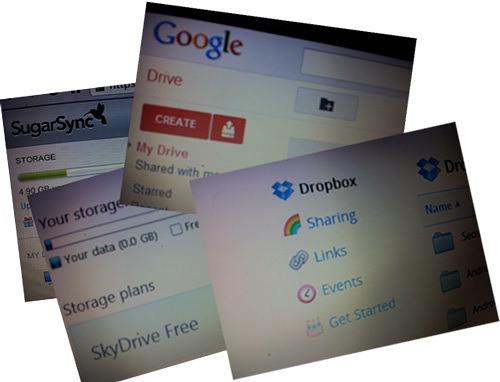 Google Drive
Dropbox
SkyDrive
SugarSync
Free Storage
5 GB
2 GB (+ 500 MB per
referral up to 18 GB)
7 GB (free upgrade
to 25 GB)
5 GB (+ 500 MB per
referral, up to 32 GB)
Minimum Upgrade Price
25 GB at $2.49/month
50 GB at $9.99/month or $99.00/year (+ 1 GB per referral, up to +32 GB)
Add 20 GB to your free storage at $10.00/year
30 GB at $4.99/month or $49.99/year
Share Folders
Yes
Yes
Yes
Yes
Native File Support
Microsoft Word, Excel, PowerPoint, PDF, Apple Pages, Illustrator, Photoshop, TIFF, AutoCad, SVG, PostScript, TrueType, XPS, ZIP and RAR
Photos, Videos
Microsoft Word, Excel, PowerPoint, OneNote, Photos, Videos
Photos
Online File Manager
Yes
Yes
Yes
Yes
Desktop Access
Windows, Mac
Windows, Mac, Linux
Windows, Mac
Windows, Mac
Mobile Access
Android only, iPhone and iPad app coming soon
iPhone, iPad, Android, Blackberry
iPhone, iPad, Windows Phone
iPhone, iPad, iPod touch, Android, BlackBerry, Windows Mobile, Symbian
Developer Tools/API
Yes
Yes
Yes
Yes
These are some of the basic points that matters most for users while considering a cloud storage service. (I'll try to update the table with more data as and when needed.)
Which service(s) are you using? Which features are important for you while considering a cloud service? Tell us in the comments below.